NHS CHOIR
"We have music and transliterations to make learning the music easy for all!" says Claire Lee, Choir Director.

The Northern Hills Choir is an all-volunteer group that enhances the High Holiday services and occasional services during the year. Under the direction of Claire Lee, the choir has fun, works hard, and enjoys sharing the results with the congregation. No Hebrew knowledge is necessary--everything is transliterated.

Rehearsals for the High Holidays are primarily on Sunday afternoons during the summer. Choral singing is an enjoyable group activity where the sum of the whole is greater than the parts! If you would like to join the choir, contact Claire Lee or call the synagogue office at 513-931-6038.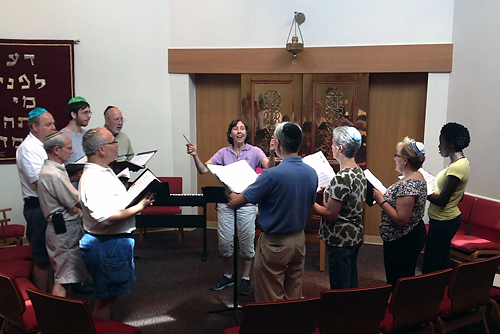 ---
Home | About Us | Praying | Learning | Doing | Giving | Calendar | Contact Us |

Copyright © 2021 by Northern Hills Synagogue. All rights reserved.
Please send comments or suggestions to the Webmaster